October 2018 was abnormally warm compared to previous years. The maximum air temperature reached 27°С in the southern regions, and in some districts of the Odessa, Dnepropetrovsk, Lviv, Chernivtsi, Vinnitsa and Transcarpathian regions a temperature maximum was recorded in the third ten-day period of October over the past 60 years. The average monthly air temperature ranged from 8 to 14.2°С and turned out to be 2-3.5°С above normal. During the cool nights the minimum air temperature dropped from +1 to -5°, and in the southern areas from -1 to +1°С.At night in the Donetsk, Zaporizhzhya, Kherson, Nikolaev, Chernivtsi, Ivano-Frankivsk and Transcarpathian regions the air temperature dropped to -1 – -4, which led to a temerature decrease on the soil surface to 0 – minus 5°С, and in the Kiev region (on peatlands) – to minus 7˚С. Thus, on average, the  ten-day period temperature of the soil at a depth of 10 cm in north-western regions was 6-9°C; in the rest of the country – 10-14°C.

Abundant and scant rain was observed in different regions of Ukraine for 2-9 days depending on the region. In most regions of the western, eastern and central-southern regions the total precipitation amounted to 143-287% of the ten-day norm (11-43 mm), and in the northern and central regions – 80-120% (7-16mm). In Chernivtsi and Odessa regions precipitation amounted to 50-63% of the norm (5-6 mm). Monthly precipitation reached the norm only in some selected areas while in Ukraine as a whole it reached 40-70% of the October norm; in the Odessa region 20-40% and in some areas there was no rain at all. By the end of October the rains replenished the water balance of the soil, but in insufficient quantities since the beginning and middle of the month passed with almost no rain. However, despite slight precipitations, fogs, abundant dews, high relative humidity of the air kept the upper layers of soil moisturized at a satisfactory level, although in the Kherson, Odessa and Mykolayiv regions it was not enough, which led to drought.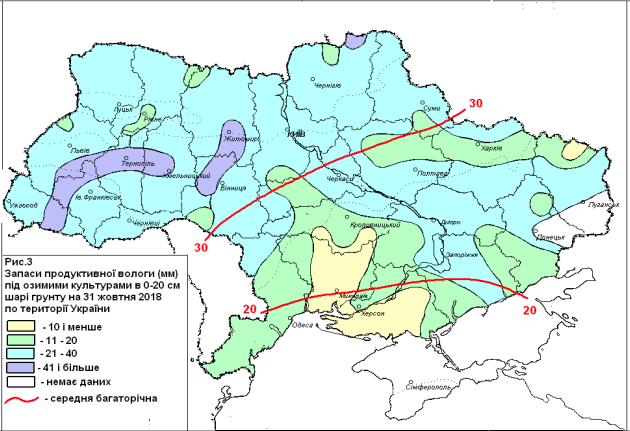 According to experts' assessments and operational agrometeorological observations, winter crops were sown before the end of September (on an area of about 53%) and reached the tillering phase that was optimal for wintering.
In general, crops on 90% of the crop area are assessed as satisfactory.At the same time, in some areas of the Odessa and Kherson regions, where there was the greatest deficiency of moisture in the soil, there was yellowing of the leaves of the lower tier and twisting of the top of leaf. The fields planted with winter wheat show thinning of crops up to 60-90%. In most areas the onset of rains delayed harvesting, increased air humidity and lowered night-time air temperatures to negative values, which in turn could lead to deterioration in the quality of sunflower seeds, soybeans, and sugar beets in unharvested areas.